Authoring: Browser-based, full WYSIWYG editing in Internet Explorer, placing of images, choice of fonts and styles, setting of text flow and spacing for images and tables.
Image Editing: In-place editing of im­ages for size and cropping on the webpage. Adjustment of rotation, brightness, contrast and conversion into black and white with well known processes. Automatic optimizing of images for Internet viewing - see image manipulator below.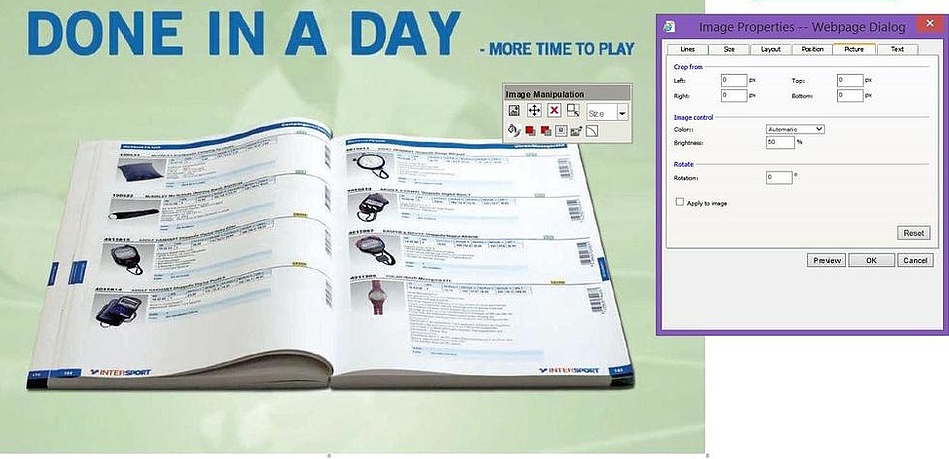 Table Editing: Insertion of pre-formatted tables with selector for number of rows and columns, setting of horizontal and vertical spacing, placing of colors and images into the background of tables and cells - selection of styles for tables and cells.
ImageDirector: The powerful Digital Media Asset Management System takes control of management and conversion of images and default text styles. Automated import function for alt-text from ImageDirector's file description. ImageDirector automatically provides appropriately sized, professional quality images to Taggon. Images, videos, sliders, slide-shows, etc. can be directly placed into Taggon pages.

Search Engine Optimization (SEO): Taggon takes care of the search engine fundamentals. Every page that is part of the sitemap is automatically indexed by search engines. The sitemap can be updated by the user with an automatic sitemap generation tool. Each page has extensive properties for SEO. There, page title, page description, and keywords can be managed individually. The page output is static for optimum page loading Performance.
Lead Generation: As a world exclusive, Taggon helps with lead generation with a list of detectable visitors. The powerful lead generation tool reveals the time, location, IP address (Organization/Business name), and navigation path of website visitors.

Templates: Manage branding, layout and publishing standards. For the implementation process, templates are required that define layout and style of the individual pages and containers (Layout and content templates as well as CSS Style Sheets).
Dynamic Menu Creation and Sitemap Editor: Subject to template constraints, adding a new page adds an entry to the menu. Administrators can perform complex site re-organization with drag-and-drop ease.
Corporate Design Support and W3C Standards: Taggon was developed to work with corporate website designs operating with templates. Taggon accepts page templates created in authoring tools such as Dreamweaver, FrontPage, etc. The published pages are W3C compatible for desktops, tablets, and mobile devices.
Online HTML Editor: HTML code for an on-page application or special structure can be added to pages using Taggon's HTML editor. This allows corporations to build and deploy online applications quickly and easily.
Connected Content Containers: Share content across multiple pages within the Internet presence.
Content Scheduling: Automating the schedules for publishing and archiving.
Unlimited Languages: Manage as many language versions as needed.
Localized User Interfaces: For authors, editors and moderators, localized user interfaces are available in English and German. Italian, French, Spanish and Portuguese are available upon request.
Unicode: Taggon supports Unicode, the international standardized character set. This enables Taggon users to generate text on a global scale with the use of the native languages.
Workflow: With Taggon's workflow and approval processes, site managers can ensure that content is properly reviewed and approved prior to publication.
Rights Management: Access to Taggon is controlled by ad­ministrators with specifically assigned roles.